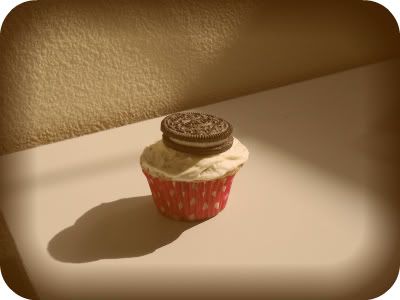 Ingredients
2‑1/4 cups all-purpose flour
1 tablespoon baking powder
1/2teaspoon salt
1‑2/3 cups sugar
1 cup milk
1/2 cup (1 stick) butter, softened (I now cube mine for quicker softening!)
2 teaspoons vanilla
3 egg whites

1 cup crushed chocolate sandwich cookies, plus additional for garnish
Directions
Sift flour, baking powder and salt together in large bowl. Stir in sugar. Add milk, butter and vanilla; beat with electric mixer at low speed 30 seconds. Beat at medium speed 2 minutes. Add egg whites; beat 2 minutes. Gently stir in 1 cup crushed cookies.

Spoon batter evenly into prepared muffin cups (I like to use an ice cream scoop), filling two-thirds full. Bake about 20-25 minutes or until toothpick inserted into centers comes out clean. Cool in pans on wire racks 10 minutes. Remove cupcakes and cool completely before icing.
Frost cupcakes (recipe below); garnish with additional crushed cookies.

YMC's Favorite Icing Recipe


Ingredients

4 cups confectioners' sugar
1 cup shortening (or 1 cup butter for buttercream)
3-4 tablespoons water or milk
1 teaspoon clear imitation vanilla extract (or almond, according to your preference)

Directions
In a large bowl, combine sugar, shortening, water and vanilla. Beat on low speed to combine, then beat on medium speed for a full five minutes. It will take that long to resemble icing, don't worry!
I got this recipe from Young Married Chic's blog. I'm starting to like cupcakes more and more. It keeps your portion reasonable, people don't fight about how big their piece is, and even if a few cupcakes are eaten, the rest still look good, as opposed to when you cut into a cake and the rest of the cake looks ugly. I guess I'm just trying to justify them. There's a ward cupcake activity on Thursday and so I've practiced with different cupcakes a couple of times. Because I have this habit of thinking I'm better at something than I really am and have the result be crappy because I didn't practice beforehand. So it started with Chocolate cake mix and store bought chocolate frosting last week. And then I found the above recipe and had to try it! I love that it is all from scratch. No weird preservatives. And my cupcakes turned out so I'm quite happy. I'm not gonna lie, I feel accomplished. Because I used double stuff Oreos, they were harder to crush up for the batter and so I wasn't wanting to crush them to sprinkle on top, so I ended up just putting the whole cookie on top. Which is WAY better, right? Please try them. They're SO good. If I do say so myself. Try them and report back to me!