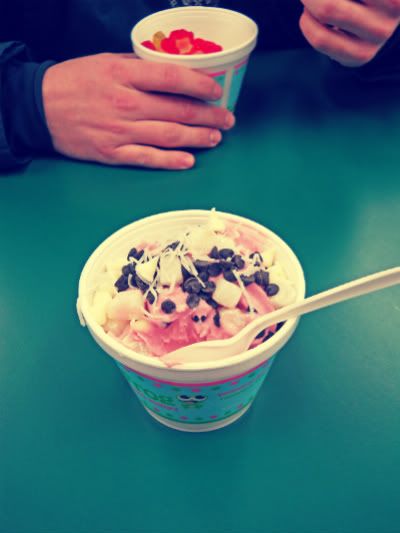 I know that I'm a little behind posting about Valentine's Day. It was 3 weeks ago. But it was my first V-day being married so I kind of feel like it's a big deal.
The weekend before Bear had his first baseball game. And it was miserable. I had super thick sweat bottoms with jeans underneath, a hoodie, coat, scarves, super fluffy slippers and socks, 5 blankets, and toasty mittens. But it wasn't enough. I thought I was being the biggest cold wimp in the world, because the weather was supposed to be 40 degrees that day, but I hadn't looked up the wind chill. It was 5 degrees. They had to cancel the second game because it was so cold. It sounds silly, but it made me really appreciate the pioneers right at that moment. I think I would have been the first to die. Seriously.
But Rachel and her boyfriend came and watched the game, and so on the way home we stopped in Roanoke and watched The Vow and ate at Olive Garden. I just loved that the movie was based in Chicago. Even though it didn't have the typical romance movie ending, it was a true story and we all know how it really ended. I would have been happy with just that, but Bear completely spoiled me by taking me out to eat again at another Italian place closer to school on the actual day, taking me to another movie, buying me an iPad, a day at the spa, and ended it with our favorite, brand new frozen yogurt place. One where you pay by the ounce. So you can get as much yogurt or toppings as you want. And they have mochi balls. So of course that makes it my favorite ♥
So the baseball underarmour and carved vintage ice cream spoon that says "be mine" that I got Bear look like nothing. But I love him and the 9 months that we've been married. Bring the future on.