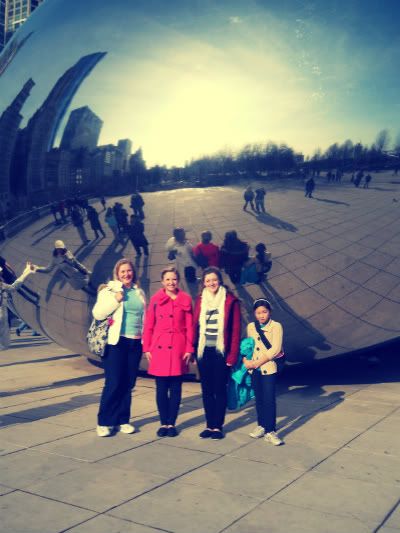 Part of my Christmas present from my parents was going to Chicago a week before Christmas! We took Amtrax from Macomb to Chicago, and walked around the city all day. We pictures in front of The Bean. The weather was perfect! Sunny, no wind, and in the 50's.
We walked all the way down Michigan Ave to go to the Cheesecake Factory. I think that and Olive Garden are my favorite restaurants. Oh, and Wasabi's in Roanoke. I just like food a little but too much. We went to the American Girl store, the Hershey's and Ghiradelhi stores, lots of fun clothing stores, and of course Tiffany's! I hadn't been in one since we lived in Tokyo. But my favorite was the Anthropologie store. They had so many sales that they didn't have online! Because they were half off, we stocked up on THESE and THESE for the guys and girls in our lives that we needed to buy presents for. And my mom bought the cutest apron!
We also got to go with Laura and Constance Skog, who knew their way around the city. The whole time, we kept saying "Chicago, America" like Tevye and Lazar Wolf do at the end of The Fiddler on the Roof movie. It will always be a good memory to me. We didn't go to any shows or museums, but I still had a ton of fun! I slept the whole train ride there and back. The buildings were so beautiful! And once I got back to school, the first day of my American History class started with the Chicago World Fair. And it made it that much more real in my head.

On another note, there was a window display for A Christmas Story: The Musical!. Look at the leg lamp! Now, that would be an interesting show :)

I want to go back! Maybe this time with Bear - he was bummed that it was a girls day. He really wanted to go.